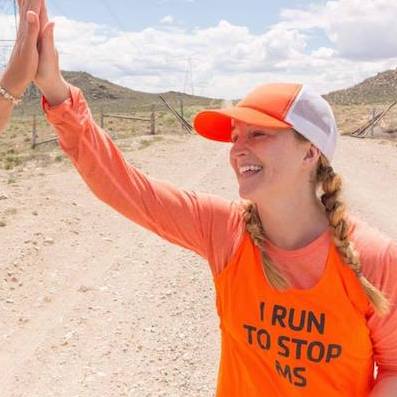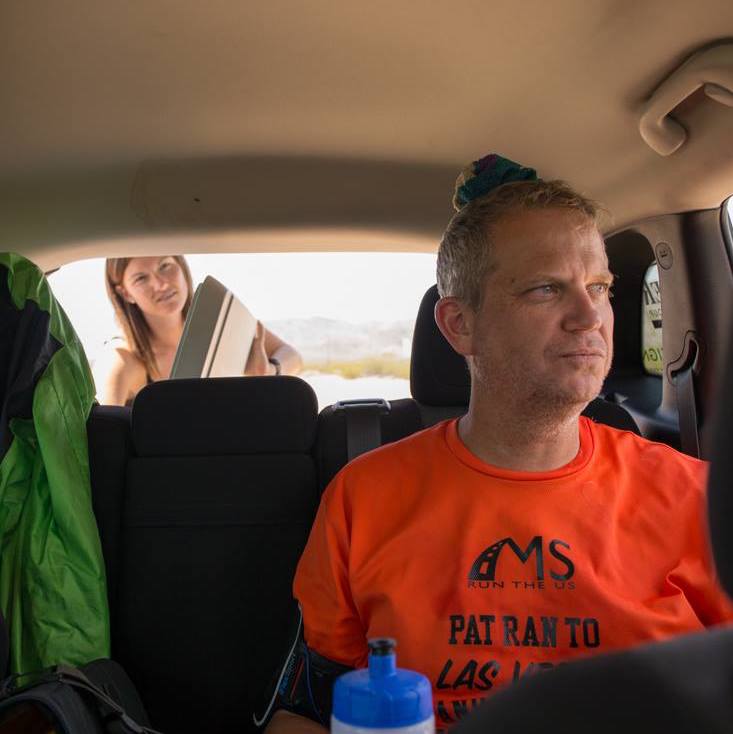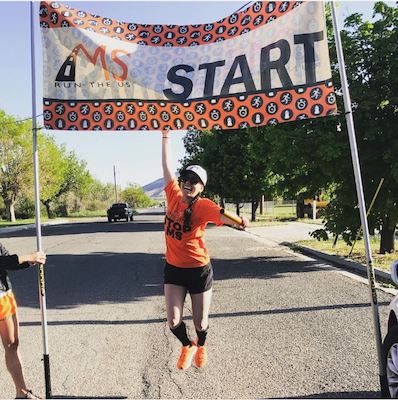 Thank you for your interest in our Relay event. Applications for the 2021 Relay are OPEN!
Selection for the team is competitive and space is expected to be unusually limited due to the cancellation of our 2020 relay run amidst the coronavirus pandemic. We encourage you to apply early and join our Ambassador program to get connected with the organization right away!
Ultra Relay Runner Expectations
Format: If selected for the team, those applying to be an Ultra Relay Runner are committing to running approximately 160 miles in six consecutive days during their assigned relay segment.
We are thrilled that you are taking this opportunity to learn more about our ultra relay run to STOP MS, as it truly is a unique fundraising event that we are very excited about! To help you better understand what to expect as an Ultra Relay Runner candidate we have compiled a rundown of responsibilities and benchmarks.
MS Run the US, Inc. is a charity organization founded by our Executive Director, Ashley Schneider. Through the support of sponsors and many generous donations, in 2010 Ashley ran 3,288 miles across America by herself in an effort to raise nationwide disease awareness, and funds to support MS research. Her efforts raised $56,000. The Ultra Relay is where YOU get the chance to experience a portion of what Ashley did in 2010. More importantly, this is your chance to be a unique part of the growing movement to end MS.
As stated, there are limited slots available for the Ultra Relay team each year. The event format offers only 19 runners a position on the team.
Those selected should expect a fun, challenging adventure. We do what we can to make each runner comfortable, but this is an ultra distance expedition and, like a camping trip, some creature comforts might not always be available.
Step 1: The Application
Anyone interested in taking the on the challenge of running approximately 160 miles in six days while raising funds and awareness to stop MS should fill out an application. Once your application is received, the MS Run the US team will review it and notify you that they've received your application. You can expect to hear from us within two weeks from your application date. Phone interviews will be scheduled at that time with Ashley, our Executive Director. Team interviews will conclude as a whole in September. Following phone interviews and references checks, the organization will select the best candidate for each relay segment by October 1st. Those selected for the Ultra Relay team will partner with us on fundraising, disease awareness, community involvement, and training efforts.
Step 2: Fundraising (deadlines & amounts)
Each Relay Runner is expected to raise a minimum of $10,000 net donation dollars by the completion of the Relay fundraising campaign on September 30th of their participating year.
[Note: Before you pass on this opportunity because of the challenging fundraising minimum know that many runners before you were also frightened by that goal, and many runners before you still applied, and many runners before you achieved & exceeded their fundraising minimum! We wouldn't set that as the goal if we didn't think it was possible & fair for what the experience offers in return. We also have an excellent fundraising system in place to guide you in this amazing fundraising journey. Carry on…]
With the guidance of the organization, you will develop your very own fundraising support team. We will coach you on the of use social media, organizing events and communication to spread the word about your involvement with the Ultra Relay Team and your fundraising goal. Ultra Relay Runners will start their fundraising efforts months before they actually run, and will continue fundraising and awareness efforts during and after they complete their Relay segment.
Upon acceptance of the Relay Runner position in October, each runner must contribute via fundraising or personal donation to MS Run the US, Inc. 20% of their total fundraising minimum ($2,000) by December 31st of their participating year. The Relay Runner will then contribute again 20% of the total minimum amount ($2,000) by March 15th of their participating year. Then another $4,500 in fundraising is required four weeks prior to the start of each Relay runner's segment. This fundraising requirement is in the best interest of each runner and our mission. Our experience from years prior tells us that it is significantly more difficult for a runner to fundraise after their Relay segment is complete. This is why we require 85% of the funds raised to be contributed prior to the start of your assigned segment. The remaining fundraising goal ($1,500) should be raised by the completion of the Relay fundraising campaign on September 30th.
The fundraising commitment schedule is as follows:
$2,000 – December 31st – Totaling $2,000
$2,000 – March 15th – Totaling $4,000
$4,500 – [Four weeks prior to the start of your segment] – Totaling $8,500
$1,500 – before September 30th
Fundraising total $10,000 by September 30th.

Step 3: Training
It's expected that not everyone applying for this event will have experience running approximately 160 miles in one week. In conjunction with our mission, the charity also strives to inspire others to live a healthy and active life style. For purposes of this event MS Run the US, Inc. will provide training trips, nutritional advice, and guidance from a group of running experts from within the organization, like Ashley, our Alumni runners, and our dedicated Road Crew.
Expect to begin a training program three to six months before your assigned Relay segment. Distance running experience is part of the selection criteria in our process of evaluating applicants.
Step 4: Running Your Segment
Each Ultra Relay segment is sectioned into approximately six consecutive days of running 26 miles each day. For reasons of community awareness and involvement, as well as safety, any Ultra Relay Runner may not complete the assigned segment miles more than one day faster than scheduled (ie. Ultra Relay Runners may not complete their whole segment in one long running effort). A list of the relay segments is available on our segment map page: msruntheus.org/maps/
Due to the logistics of this event, the fact that every mile from coast to coast is covered, and for safety, each runner will be supported by the MS Run the US Road Crew team and stay in our motor home (RV) vehicle during their assigned segment. The RV will serve as a home base, sleeping quarters, runner aid, meal prep, and the central hub vehicle for all activity during the Relay.
Each Ultra Relay Runner can expect to stay with the team for approximately six days. Five to six hours each day is dedicated to running and greeting supporters in communities along the route. The remainder of the time is used for rest, recovery, speaking with media, supporting events, and connecting with the volunteer runners involved in each segment. Depending on the location of your Ultra Relay Segment, and your running abilities, you can expect to have anywhere from 3 – 6 hours of downtime each day after your running is complete.
Step 5: Going Farther!
Upon completion of each Ultra Relay segment, the Road Crew team will continue the journey with the next Ultra Relay Runner, building upon the attention and awareness generated during the previous segment(s). We are a team, thus all Ultra Relay Runners are asked to support teammates virtually with encouragement and drive organizational awareness even after they have completed their segment.
Each Ultra Relay Runner achieving $20,000 in net donation dollars raised for MS Run the US, Inc. by September 30th will receive reimbursement for their travels to their Ultra Relay segment within the continental U.S. Receipts must be provided for reimbursement.
Each Relay Runner achieving $30,000 in net donation dollars raised for MS Run the US, Inc. by July 15th will be flown to New York for the finish line ceremony in August. All travel expenses within the continental U.S. are included in this exciting opportunity!
Every Ultra Relay Runner will receive official MS Run the US team gear and super cool merchandise from our sponsors.
Additional Details: Ultra Relay Runners are allowed and encouraged to invite others to voluntarily run with them along their segment. Restrictions may apply as some areas of the route may limit the number of runners that can safely join. It's understood that each volunteer runner accompanying an Ultra Relay Runner is agreeing to our Risk Liability Waiver, and that they must aid themselves during their participation.
What's provided for each Ultra Relay Runner:
• A training program, and guided tips and suggestions for training.
• Nutritional guidance for endurance running.
• Fundraising advice and support.
• Featured Ultra Relay Runner page on msruntheus.org.
• Meals for the duration of their segment.
• Access to the comforts provided by the RV, SAG vehicle, and Road Crew team.
• Sleeping quarters and clean linens for the duration of the stay.
• Bathroom and showering facilities.
•Inclusion into our private social media groups.

And an experience you will never forget!
If, after reading these expectations, you're not cross-eyed or terrified we strongly encourage you to submit an application for the 2021 Relay…You may just be crazy enough to be a part of this Ultra Relay family. We can't wait to meet you to find out!