We work with our Ambassadors in various different capacities from social awareness to fundraising! We love engaging with individuals committed to understanding multiple sclerosis, embracing and supporting our mission, raising awareness in their community, and meeting the expectations outlined for each Ambassador opportunity!
Social Media Ambassador
---
We're growing a digital army and we want YOU to join the virtual fun! We find immense value in the content you create online and know that YOU can fuel our mission to end MS through online awareness.
Ambassador Criteria
Like the organization's social media profiles found at the following links AND like/share our most recent post on your most prominent platforms:
www.facebook.com/msruntheus/
www.instagram.com/msruntheus/
www.twitter.com/msruntheus/
Like all posts from MS Run the US on all platforms that you have a profile.
Share one post a week from MS Run the US on your most prominent platform.
Post once a week in your voice that is a positive, uplifting, or fitness/health related message and use the hashtags #msruntheus #orangearmy
Fundraising Ambassador
---
Ready to take your engagement to the next level through fundraising?!  Awareness is a HUGE part of our mission but we can't help those living with MS without critical fundraising efforts. YOU can be that change!
Fundraising criteria: We created different levels of fundraising engagement to encourage and recognize you for your efforts as an Ambassador! We also want to know what motivates YOU and can't wait to stay connected during your campaign efforts!
Here's what you'll receive from us as you achieve different fundraising levels: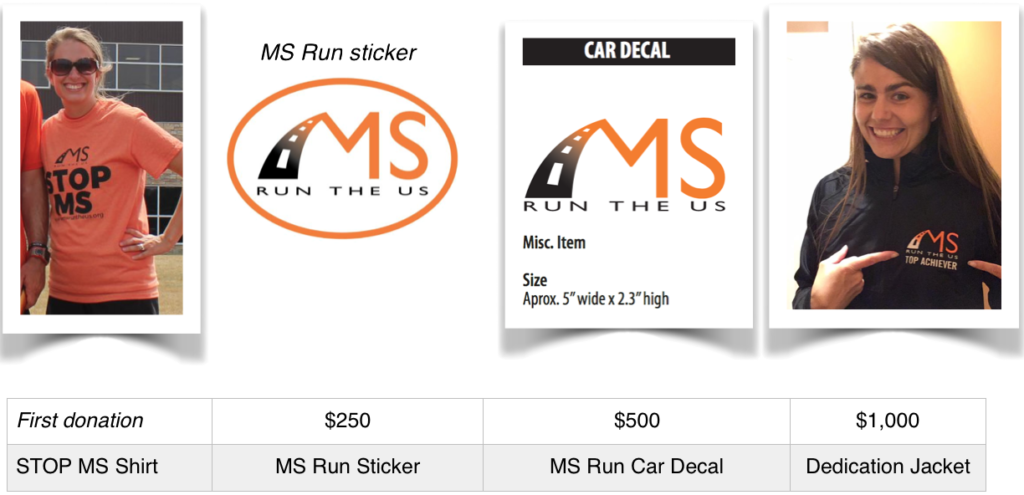 Volunteer Ambassador
---
As a Volunteer Ambassador, we'll will stay in touch with you about important volunteer opportunities that will help us make an impact in our communities! Examples of ways we engage our Volunteer Ambassadors would be things like: volunteering at our charity partner races, writing hand-written thank you's to our donors, coordinating people to attend our cheer stations at our segment finishes, making a home cooked meal for our runners, and much more!
Seven years ago I stepped far outside of my comfort zone for the one person that brought me into this world, my mom. I spent 2014-2019 as a Relay Runner for MS Run the US's Segment 13. With approximately 935 segment miles in total and over $55,000 raised in those six years I'm not about to stop. Please help me help those with MS by donating to MS Run the US. Your donation is tax deductible and will directly help those with MS like my mom as well as supporting vital research needed for new medicines to battle symptoms as well as finding a cure.

9.81% Funded
$490.60 Pledged